Our health promotion team promotes healthy behaviours within our community
Our health promotion projects are aimed at promoting health of our community as a whole rather than focusing on the health of individuals. Our aim? To prevent illness and injury from happening in the first place. We do this by looking at how social and environmental impacts affect our ability to lead healthy lives. We deliver health promotion programs and initiatives to schools, sporting venues and other communities with a focus on:
We deliver health promotion programs and initiatives to schools, sporting venues and other communities to teach locals about:
Healthy eating
Active Living
Preventing violence against women
Tobacco and E-cigarettes
Mental Health and Wellbeing
We help the Yarra Ranges community create healthier environments in the settings where people work, live, learn and play
We work in partnership with a variety of local and state organisations including Yarra Ranges Council, Eastern Health and the Department of Health. Our team regularly participates in Community of Practice and Professional Development events and programs to ensure a strong, evidence-based foundation.
Our Health Promotion projects are primarily funded through the Department of Health or via grant funding. This means that there is no cost to settings such as schools, recreation venues or the wider community when we implement our projects.
Click a project to read more
Step and Connect is an active living project based in Lilydale aimed at encouraging increased participation in physical activity opportunities for women and girls.


Step and Connect consists of 3 components. These include:


 A map of all Active Living/Recreational opportunities in Lilydale featuring 5 categories: Trails (walk/bike/horse), Parks/Playgrounds/Green spaces, Sport/Rec reserves, Public Art POI and Community POI


Establishment of a Women's Only Walking Group in collaboration with the Lilydale Community House



Hosting a series of co-designed pop-up events for local teenage girls aged 12 – 15, showcasing non-structured activity opportunities in Lilydale. The series will explore opportunities such as: roller derby, cycling the Warburton and Yarra Valley Rail Trails, outdoor gym session, circus skills, lawn bowling, yoga in the park, skateboarding and exploring local walking trails.
Yarra Ranges Food Connections
Healthy Choices in Sports and Rec
Inspiro partners with Belgravia Leisure and Yarra Ranges Council, working towards changing the environment to enable promoting healthier options in our sports and recreational facilities.  Grant applications have allowed us to purchase cold display fridges, popcorn machines, steamers, blenders and air fryers.  Staff are being trained, the fridges are looking healthier and healthier options are on the rise.
https://heas.health.vic.gov.au/healthy-choices/sport-recreation-and-parks
Keeping Healthy Options Cool 
As part of our work with Belgravia we produced these 'Healthy Eating after exercise postcards'
The Vic Kids Eat Well movement is focused on transforming food and drink environments where kids spend their time.
Organisations or clubs join this statewide program: https://www.vickidseatwell.health.vic.gov.au/
Inspiro health promotion officers visit schools and clubs to help achieve the small changes and swaps, creating a healthier environment, receive rewards,  resources and go into a prize draw.
Morning Move 4 Mind (MM4M)
MM4M is an Inspiro lead, train the trainer program. MM4M aims to
increase physical activity
provide practical coping strategies to reduce stress and anxiety levels, and
increase resilience among primary school aged children.
The program aligns with much of the Department of Education's Respectful Relationships curriculum and encourages children to achieve the National physical activity guidelines of 60 minutes per day. 
In 2023, Morning Move for Mind was a finalist in the VicHealth Awards in the category of Outstanding Health Promotion Programs.
Find out more and register for additional program information here.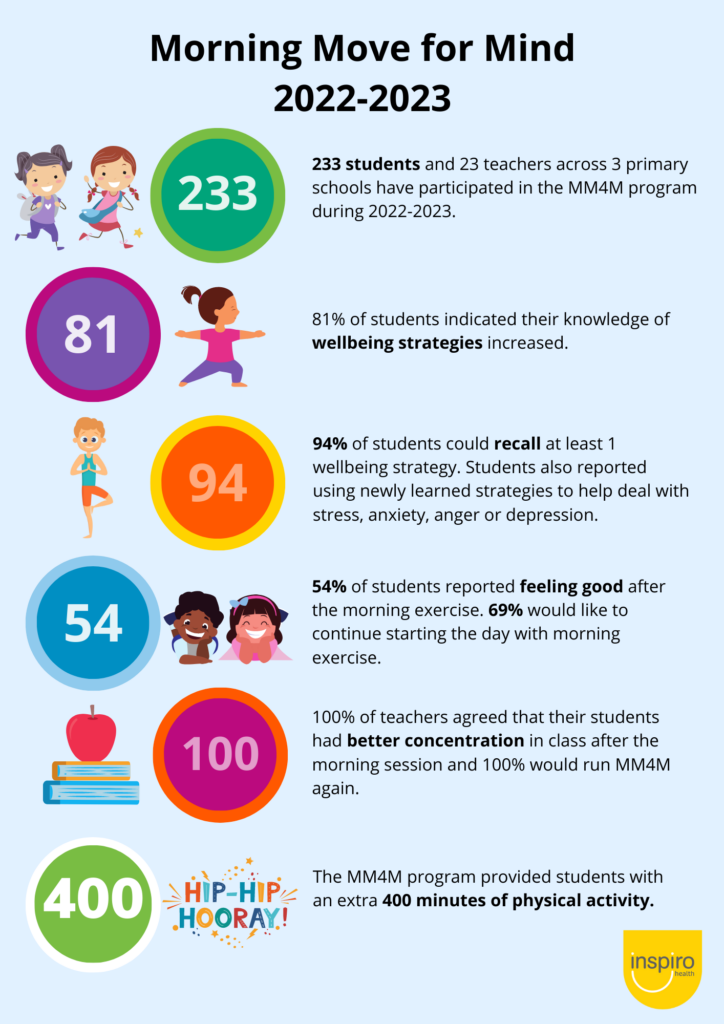 Art and Sole aims to promote active living in Lilydale West through the celebration of Wurundjeri art, and installations of signed walks and maps. Signs include cultural and historical information gathered by local community historians and contemporary health promotion messages to encourage walking as an accessible physical activity. 
Find out more: https://www.inspiro.org.au/blog/art-sole-is-now-open-to-the-public
Creating a Place for Women in Sport
Let's give our players the awards they deserve!
Inspiro is committed to supporting sporting clubs to be places that are active, healthy and socially connected. That's why we have partnered with Yarra Ranges Council and Belgravia to facilitate the Healthy Sports Rewards initiative.
Healthy Sports Rewards are a great way to recognise junior players, they include a certificate of achievement with an attached voucher that offers free entry to local sports and recreation facilities (such as Yarra Centre, Monbulk Aquatic Centre and Kilsyth Centenary Pool).
Clubs can receive the vouchers by requesting via health.promotion@inspiro.org.au or attending the yearly lease meeting at Council
In partnership with EDVOS, The Young Leaders program engages a group of students (aged 8-12) from interested primary schools in the Yarra Ranges and helps them develop a student voice project about promoting gender equality and respectful relationships in primary schools.  
Participants will have the opportunity to be a part of a series of workshops to develop an awareness raising activity for their school and be given the opportunity to showcase their project/s at a celebration day.  
This program is running in 2022, will be evaluated and rolled out further in 2023.  To register your interest or for more information please email health.promotion@inspiro.org.au 
Smiles 4 Miles is an initiative of Dental Health Services Victoria (DHSV), which aims to improve the oral health of children and their families. The program is delivered to the educators of early learning services such as preschools and kindergartens and focuses on three key messages: "Drink Well, Eat Well and Clean Well". Smiles 4 Miles has been implemented extensively across Victoria and Inspiro health promotion staff coordinate the program in the Yarra Ranges.
https://www.dhsv.org.au/oral-health-programs/smiles4miles
A free, 30 minute education session, screenings and individualised follow up advice from our wonderful Dental team are offered as part of the program
Every Body in Every School
Every Body in Every School is a practical toolkit that can be used by schools to help identify strengths and opportunities for improvement in promoting students' wellbeing and health.
The toolkit focuses on factors that can influence body image, physical activity, and healthy eating in the school environment.
There are no right or wrong answers; this toolkit is used as a 'temperature check' at a moment in time.
Learnings can provide opportunities for schools to explore ways to create environments that support student's body image and relationships with food and physical activity.
Find out more and access the Every Body in Every School toolkit here.
Infant Feeding, Active play and Nutrition (INFANT)
INFANT is a program consisting of four face-to-face group sessions offered to parents/caregivers when babies are around 3, 6, 9 and 12 months of age. INFANT is designed to help parents and families with healthy eating and active play from the start of their baby's life.  The program content is reinforced via an evidence-based app for parents called My Baby Now.
The program run in partnership with YRC and our Community Health Dietitian Karen
 will start in November this year at Belgrave and Lilydale
Call 9738 8801 to register or ask your Maternal Child Health Nurse
You Can't Be What You Can't See
Find out more about Inspiro's Health Promotion service here:
For all the information about our fees, income ranges and more. Head to our "Need to know" page using the button below.
If you're interested in finding out more or have any questions for us, get in touch using the form on the Contact page.