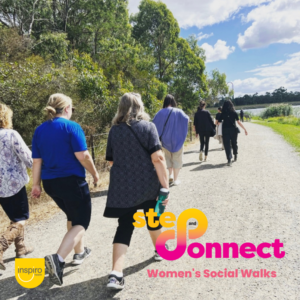 Inspiro warmly welcomes women in the local Yarra Ranges community to join our free Women's Social Walking Groups in Lilydale.
Walking is a great way to improve or maintain overall health and wellbeing. Along with the physical and mental wellbeing benefits, walking is great for social connection and independence and can also help reduce our carbon footprint. Walking is low impact, requires no equipment (just a comfortable pair of shoes) and can be done at any time and at any pace.
We know that there are very few local walking groups in Lilydale and none that particularly cater to the needs of local women. It is our aim that the Women's Social Walking groups will offer a welcoming space for women to meet new people and to exercise in a relaxed environment at times that accommodate work and family commitments.
The walking groups will explore some of the beautiful local walks in Lilydale such as the Lillydale Lake, Hull Rd Wetlands, the Warburton Rail Trail and the Art and Sole Trail and will run over an 8-week period starting from Thursday 4th May, through to Saturday 24th June.
The walks are open to all women and gender diverse people in the community who can comfortably cover 3.5km by foot, wheelchair or with a pram.
Sessions will be available on:
Thursday 9.30am – 10.30am from Lilydale Community House (Hardy St). Enjoy a cuppa afterwards.
Thursday 5.30pm – 6.30pm around Lillydale Lake
Saturday 9am – 10.30am starting from Lillydale Lake
Register via Eventbrite here.
Discover some of our beautiful local trails, digital maps, and lots of photos and information about walking for women in the Step & Connect newsletter.
Read the Step & Connect newsletter here.
Step and Connect is an Inspiro led project funded by the Yarra Ranges Council Community Grants program. Step and Connect is supported by the Lilydale Community House and is informed by the Women Who Walk pilot program from Victoria Walks.