We are thrilled to present this year's Tertiary Health Scholarships to four amazing health students – Alannah, Derek, Jaimee and Sarah. All four local students have had a real impact in the Yarra Ranges community, and we can't wait to see what lies ahead for them as they each pursue their chosen careers in health.
This year, the chair of the scholarship panel and the Inspiro board also wished to make a special acknowledgement of Dr. Hamish Russell and Stephen Potter, for their significant contribution and commitment to the scholarship program and to the Yarra Ranges community. In recognition of their incredible contributions, we are delighted to announce that the top award of $10,000 will now be known as the Hamish Russell Scholarship Award and the second award of $7,500 has become the Stephen Potter Scholarship Award.
A little about Hamish and Stephen…
The inaugural scholarships were first awarded in March 2000 by the old Lilydale Hospital. Hamish was Chair of the hospital at the time and after its closure, played a key role in ensuring the scholarships would continue to be offered to local health students. Inspiro was awarded a grant to continue the scholarship program and since then, Hamish has been a long serving member of Inspiro in a variety of roles. These include Board Director, Community Advisory Group Chair and he also serves on the interview panel of the Scholarship Committee – his favourite day of the year!
Our current Board Chair Stephen has been involved with Inspiro for over twenty years and has been the Board Chair and Chair of the Finance & Audit Committee for a number of those years. Whilst humbly accepting his nomination, Stephen wanted to ensure that the top award was named after Hamish.
How incredible to have such amazing people in our community!
Congratulations to our 2023 winners: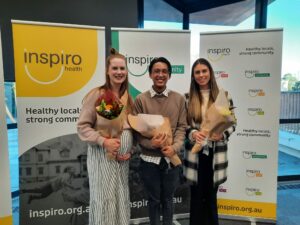 $10,000 Hamish Russell Scholarship Award – Derek Villacera, Bachelor of Public Health
$7,500 Stephen Potter Scholarship Award – Sarah Oliver, Masters of Speech Pathology
$2,500 Encouragement Award- Alannah Finger, Bachelor of Paramedicine
$2,500 Encouragement Award – Jamiee Cook, Master of Occupational Therapy
Start thinking about your application for 2024!
Since 2006 Inspiro has awarded almost $200,000 to 65 tertiary health students from the Yarra Ranges.
YOU could be our next recipient!