As a two-time scholarship award recipient, and now a qualified physiotherapist working at the Austin Hospital, Zoe is sharing her own Inspiro Tertiary Health Scholarship story and encouraging local Yarra Ranges health students to apply for this great opportunity. Let's get to know her!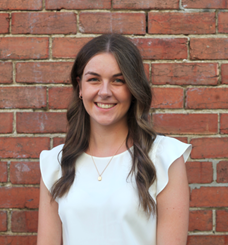 Hi Zoe, congrats on being a multi–scholarship recipient and our 2023 Ambassador!
Can you tell us a little about yourself and how you became involved in Inspiro's Tertiary Health Scholarship program?
Of course! Hello, my name's Zoe and I'm very excited to be the Inspiro Tertiary Health Scholarship Ambassador for the 2023 scholarship program.
A little bit about me: I'm a self-proclaimed chatterbox who loves staying active, catching up with friends and playing with my puppy. I live in Wandin North, and just love it here in the Yarra Valley!
I studied at university for 6 years and have just recently graduated. I completed a Bachelor of Biomedical Science at Monash University and a Doctor of Physiotherapy at the University of Melbourne. It was such an honour to receive the Inspiro scholarship during both my undergraduate and postgraduate studies (2018, 2022). In 2022 I was given the opportunity to be the first Inspiro Tertiary Health Scholarship Ambassador.
What did receiving a scholarship mean to you?
Honestly, it was such an honour and privilege to receive these scholarships.
I took on many volunteering and community roles throughout my studies. I really enjoy being an active member and giving back to the groups I'm a part of. I love being able to make a positive impact and difference. For my work to be recognised by the Inspiro team was very humbling. I hope as Scholarship Ambassador I can encourage other students to apply, so they too can feel as lucky as I do.
How did your scholarships support you in achieving your goals in your chosen field?
These scholarships alleviated financial burden through my university studies. The funds allowed me to spend more time focussing on study and career-relevant extracurriculars, instead of part-time work. I'm so thankful for this.
I was also able use a part of my 2022 scholarship funds to facilitate a community project I was involved with as Secretary of the Melbourne University Physiotherapy Students' Society. This would not have been possible without Inspiro's support. I feel very privileged to have been able to use my scholarship to contribute to other's university experience as well.
Moreover, Inspiro's endorsement and recognition has played an essential role in my professional development and opened many careers opportunities. For this I am forever grateful.
How do you think the scholarships can support students in the Yarra Ranges?
So many ways! That's what's so exciting about the Inspiro Tertiary Health Scholarship Program, it's up to the recipient how they wish to use their scholarship. For example, living in the Yarra Valley often means students must travel long distances to reach their university campus. The scholarship could be used to support driving and parking or PTV costs associated with this. Alternatively, the scholarship could help purchase placement uniforms and medical equipment needed for health science studies.
Lastly, I hope the Inspiro Tertiary Health Scholarship Program allows Yarra Ranges students to feel supported and more confident to follow their passion for study in healthcare!
What advice would you give tertiary health students who are applying for a scholarship this year?
It's cliché, but be yourself. Share your passions, hobbies, your big dreams and what you love about your chosen field. Lastly, don't forget to smile, it goes along way.
Looking forward, what's next for you professionally?
In December 2022 I officially graduated and qualified as a physiotherapist, which was very exciting. I'm working at Austin Health as a grade one physiotherapist where I will "rotate" through different physiotherapy roles. My first rotation is in acute neurology working with patients after stroke and neurosurgery, which I am absolutely loving. It's been really rewarding to put my years of training to practice. I hope to continue developing my clinical and professional skills so I can have really meaningful impact on my patient's journeys.
Has Zoe inspired you to apply for our 2023 scholarships?
Each year we give a total of $22,500 to students studying an accredited health course who live in the Yarra Ranges.
Find out if you're eligible – and how to apply here.
Applications close 4pm on Friday 31 March 2023 – don't delay, get your application in today!